HDPE Petrol Pipework Systems
HDPE Petrol Pipe Systems are a state of the art, total solution for the handling of liquid fuels in underground and above ground dual contained fuel pipework systems suitable for use with petrol, diesel, kerosene, bio-fuels and AdBlue. With features that address environmental, health and safety, life span and economical concerns.
The petrol pipework product range is expanding and developing continuously to adapt and conform to ever more stringent demands of the market. By using state-of-the-art technology, the pipework offers highly competitive, long-term solutions with designs that have been developed to eliminate all leakage and electrostatic hazards.
HDPE double contained electrofusion pipework is suitable for all known liquid fuels, including petrol, diesel, kerosene, ethanol, methanol in different grades, mixtures and AdBlue.
Secondary contained pipes have been developed to provide extra environmental safety. By applying an outer secondary pipe over the inner primary pipe (pipe in the pipe), an interstitial space is created. A class 1 leak detection system can be used to continuously monitor the interstitial space for leaks offering full environmental protection.
As a result of careful development work and stringent control of the manufacturing processes, all petrol pipework systems come with a specific manufacturer's warranty (quoted on request) from the date of dispatch.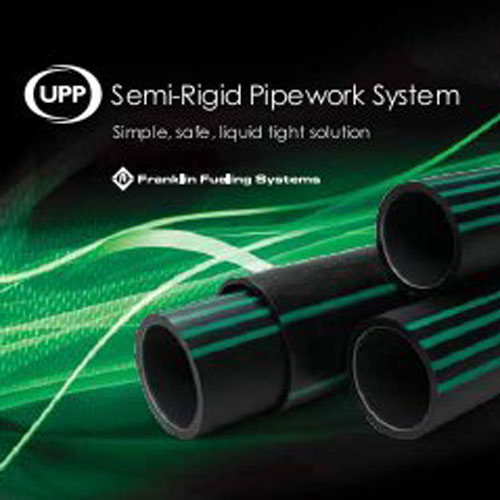 UPP Semi-Rigid Pipework System
UPP's pipes' black outer structural layer is a PE100 high-density polyethene, which is both puncture & rodent resistant.
Its clear un-pigmented natural EVOH inner layer, which is seamlessly and permanently bonded to the structural layer providing you with a new level of protection and performance, with exceptional resistance to permeation also allows the EN14125 pipe to achieve an exceptional Class T1 temperature rating. This allows the pipe to be used in a wide range of installations & environments. Its smooth bore, & low friction loss, permits fuel at higher velocities than steel does.
Durapipe PLX HDPE Fuel Pipe Work System
Durapipe PLX HDPE Fuel Pipe Work System is an above and below ground product range created to fulfil the application needs of various fuel applications.
Consisting of both, a single wall and a secondary pipe and fittings range, PLX is specifically designed for the safe transfer of all fuel-based liquids, the product range has many systems dedicated to applications within the fuel market.
KPS Petrol Pipe System™
The KPS Petrol Pipe System™ is the most advanced and installer-friendly double-wall piping system available for use on filling stations. The product range covers all piping needs that may arise on a filling station: Remote fill, pressure and suction, ventilation, vapour recovery or conduits. With zero permeation of hydrocarbons KPS piping keep fuel where it is supposed to be.
The conductive properties of KPS pipes provide unrivalled electrostatic safety with both conventional, current and future biofuels. When using KPS conductive piping you comply with ATEX and IEC recommendations and your stations and the people on them are kept safe with less installation hassle.
SMARTFLEX Multi-Layer Piping System
SMARTFLEX is a complete multi-layer piping system manufactured by NUPIGECO for the transfer of automotive and Aviation fuels, Biofuels and hazardous fluids.
The system has many international and local approvals and is already used and approved by major international petroleum companies, in response to whose needs it has been conceived, developed, realized and successfully launched into the market by NUPIGECO.
LET'S US HELP
We're here to help answer your questions. Our team is on hand throughout business hours to take your enquiries.
If you would like a quote for our services, in the first instance please provide some brief details using our contact form and we will get back to you.
Existing clients – if your enquiry is of a more urgent nature, please contact us via telephone in the first instance.