Oil Tank Removal & Decommissioning
West Fuel Systems is an Oftec registered business offering a nationwide oil tank decommissioning and removal service for both domestic and commercial oil tank installations. OFTEC BUSINESS REGISTRATION NUMBER: 103365
The protection of the environment is a high priority for West Fuel Systems. We know the importance of regular oil tank inspections as a way of identifying potential environmental issues before they quickly turn into real environmental issues which can result in clean up bills and excessive costs.
Plastic Oil Storage Tank Inspection
Plastic oil storage tanks are available in many sizes and shapes. They can also be quite complex in their design, incorporating profiling and strengthening webs. When inspecting plastic tanks, particular attention should be paid to horizontal and vertical lines and intersecting profiles for signs of cracks, bulging, discolouration and for the occurrence of a white chalk-like substance. Oil tanks that are cracked or are bulging are at risk of catastrophic failure and should be replaced immediately.
Decommissioning Oil Storage Tanks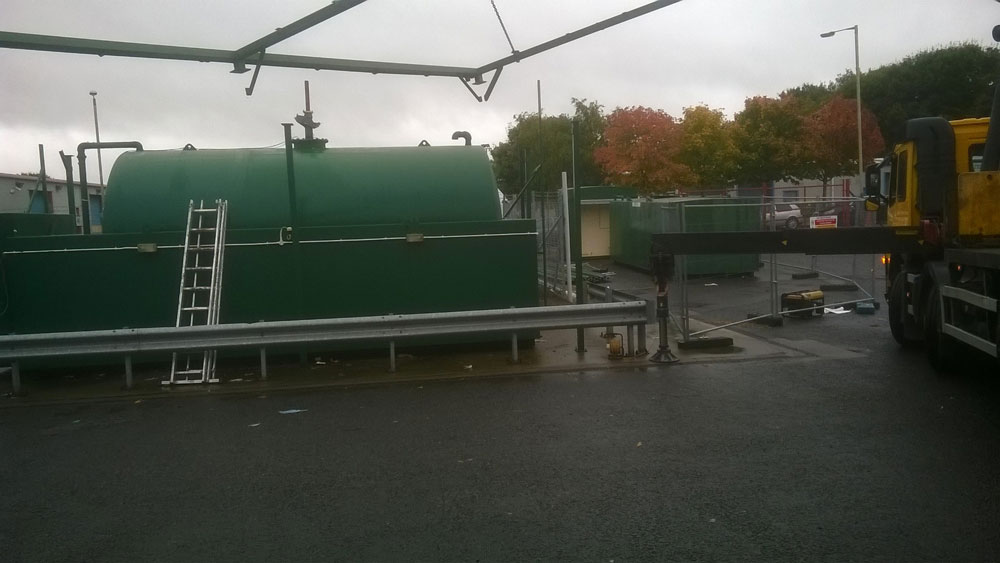 The correct decommissioning and removal of oil or fuel storage tanks is an important factor as the incorrect decommissioning and removal methods could lead to a serious accident. Therefore, adopting the appropriate precautionary measures is essential. With the health and safety at work act stipulating that a sufficient risk assessment must be completed to identify any potential hazards and to ascertain the right precautionary measures are in place, you can rest assured you will be in good hands when you make West Fuel Systems your choice of contractor.
Fuel and oil storage tanks require all remaining product uplifting and the fuel or oil tank requires cleaning and degassing before any decommissioning works can take place. With storage tanks being considered a confined space, entering a tank to complete these activities should be avoided when possible. There are various options available where this process can be completed without the need to enter the tank, for example, long reach equipment and camera jets.
The preferred process is to remove the storage tank from the site to a more secure location and, with this in mind, the tank will require purging and a gas-free certificate issued before the tank is removed from the site. All waste must be disposed of at licensed waste disposal facilities on licensed waste carriers' transport. Full disposal documentation is provided upon completion of the decommissioning works.
If you are considering having your tank cleaned or removed, the easiest way is to gather some simple information on your tank first:
The tank size in litres or the physical dimensions?
How much liquid is in the tank?
A description of how we can access the tank with a vehicle?
What is it made from (plastic or steel)?
If possible, take a photograph of the tank and the access to it.
Site location – postal code.
Then simply use our online form to send that information to us and we'll get back to you. Alternatively, you can call directly on 01709 296 767 or email enquiries@westfuelsystems.co.uk.
LET'S US HELP
We're here to help answer your questions. Our team is on hand throughout business hours to take your enquiries.
If you would like a quote for our services, in the first instance please provide some brief details using our contact form and we will get back to you.
Existing clients – if your enquiry is of a more urgent nature, please contact us via telephone in the first instance.